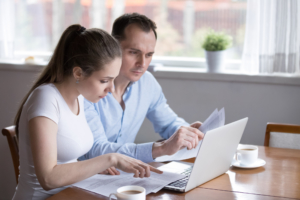 Buying a new home is exciting, but it is also a very serious financial transaction that needs to be handled with extreme attention to detail. Even the slightest oversight during a real estate sale can lead to years of frustrating issues and tremendous expense for the new homeowners. The closing process can be an especially precarious part of the deal.
Surrounding yourself with a team of experts in handling real estate closings is an important first step, but ultimately, you, as the homebuyer, must take all the appropriate steps to ensure your closing goes as planned. To make the process smoother, avoid these common mistakes made by first-time homebuyers during closing:
Not Reading Everything You Sign
Just like any business dealing, you should read every single page of all the contracts and documents that you are required to sign at closing. If you are concerned about the time this will take, you can request that copies of these documents be sent to you prior to the closing date for your review. However, even if you review them prior to closing, you still need to be sure that the documents you are signing at closing match what you've reviewed.
Not reading what you are signing is a common mistake among first-time and repeat homebuyers. While most simple residential real estate contracts are straightforward, reviewing all the closing documents definitely falls into the "better safe than sorry" category.
Not Ordering Inspections
While a general home inspection is always recommended (and sometimes required by lenders) and brings to light many common issues, it doesn't catch everything. Some issues are not easily visible and require a specialist to uncover. There are a variety of inspections that you can request for a property you are purchasing to better understand the property's current condition. These inspections can include:
Plumbing/Sewer

Insects/Termites

Mold

Chimney

Foundation

Roof

Lead-based paint

Radon

Electrical

HVAC

Asbestos

Soil analysis

Pool & spa

Hazardous or dangerous equipment (i.e. underground fuel tanks)
We recommend all homebuyers request the inspections that make the most sense for the property they intend to purchase, on top of a general home inspection. Spending the money for the inspection before closing can save you thousands of dollars in the future.
Not Meeting All the Deadlines
There is seemingly no end to the deadlines that must be met during a real estate transaction. For a first-time homebuyer, the multiple dates to remember can quickly become overwhelming. At Benefit Title Services in south Tampa, we help homebuyers stay on track through the closing process by keeping up with the deadlines, taking the stress off of the homebuyer, and ensuring that the process is not delayed.
Making Big Deposits or Purchases
This might sound a little unusual, but homebuyers should always avoid making any large unverifiable deposits into their accounts during the real estate transaction, as well as avoiding any big-ticket purchases. These can throw off the financials of your real estate deal and delay the closing until the transactions are reviewed and verified. So deposit nothing other than your paychecks or other verified income sources during the real estate sale, and wait until closing is over to buy vehicles, other real estates, or any other high-cost items.
Closing Process Assistance in Tampa Bay
For over a decade, Benefit Title Services in South Tampa has been guiding first-time homebuyers through their closing process, making the entire home-buying experience less stressful for everyone. We can even provide you with info on Florida's generous first-time homebuyer incentive programs! Contact us online to get started today!
https://www.benefittitle.com/wp-content/uploads/2014/03/logo.png
0
0
bestedge
https://www.benefittitle.com/wp-content/uploads/2014/03/logo.png
bestedge
2022-03-10 08:14:48
2022-03-26 08:21:26
Common Mistakes First Time Homebuyers Make During The Closing Process