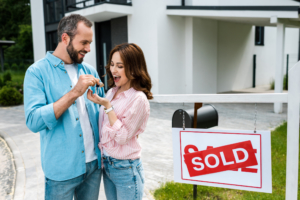 The simplest definition of turnkey property is a property that is ready to move into immediately. Turnkey is usually only used in reference to properties for sale, not those for rent. However, real estate investors may seek out turnkey properties to purchase and then immediately rent out.
Turnkey properties are highly desirable for both home buyers and investors, as most do not want to spend extra time and money renovating a property. For this reason, property developers often strive for turnkey status when preparing a property for sale, as this commands the highest sale prices.
Turnkey Properties for Property Developers
Property developers have learned the many advantages of offering turnkey properties for sale, especially to real estate investors. These developers will often renovate or build a property up to turnkey status, sell it to an investor, and then manage the property for the investor. This way, developers make a lump sum on the sale of the property along with a monthly revenue stream from property management fees. Any difference in the rent collected and property management fees are revenue for the real estate investor that purchased the turnkey property. In this situation, everyone gains revenue (and hopefully profit), making everyone a winner (financially speaking).
Turnkey Properties for Home Buyers
For homebuyers, turnkey properties can be just as alluring. Many homebuyers have busy lifestyles, active families, and demanding careers; they simply do not have time to renovate a home to their standards. With a turnkey property, the buyer simply purchases the property and moves in – no renovations or repairs are needed. But, since the buyer will likely pay top dollar for a turnkey property, how can this save them money?
Turnkey properties will often not be subjected to the same inspection guidelines as older homes in need of repair. When inspections are done on turnkey properties, the results are often quite positive and require no intervention on the seller or buyer's parts. If the buyer is able to purchase the turnkey property in cash, they can skip inspections and appraisals altogether, potentially saving thousands of dollars!
Sell Turnkey Properties With Benefit Title Services in Tampa
No matter what type of property you are selling, the professionals at Benefit Title Services in Tampa can help streamline the sales process with high-quality, competent title services at a competitive price. Trust Benefit Title Services to handle your title search and closing tasks quickly, accurately, and without any surprises. Contact us at (813) 251-1420 to get started on your home sale journey today!
https://www.benefittitle.com/wp-content/uploads/2014/03/logo.png
0
0
bestedge
https://www.benefittitle.com/wp-content/uploads/2014/03/logo.png
bestedge
2021-12-10 07:46:03
2023-07-06 10:19:31
What is a Turnkey Property?