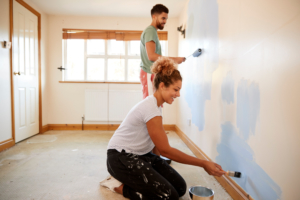 When you've made the decision to sell your home, (and now is a great time to do so!) you want to be sure to get top dollar. Even in today's seller's market, little details can make a big difference in your final sale price. 
Here at Benefit Title Services in Tampa, we've seen firsthand how sellers that go the extra mile get the most profit possible out of their homes. You too can get top dollar for your home by following our four C's of home sale prep:
Correct
The first step in preparing your home, which should ideally begin weeks or months before you actually list your home for sale, is to correct all damage to the property. Make a list of all of the items and systems that need repair, no matter how small. This list should include everything from replacing the HVAC unit to fixing a crack in the crown molding; nothing should be omitted. Once the list is made, decide which repairs you intend to make yourself, which ones you will call in a professional for, and which ones you will not address. Keep in mind that if you decide not to make all needed repairs, you may have to adjust the home's sale price to compensate for the additional cost the buyers will incur, so compare this against the cost for you to handle the repairs to see which option makes the most sense.
Clean
Now that everything around your home is in working order, it's time to clear the clutter. You want your home to be just as neat and orderly as those homes that you see on HGTV. Resist the urge to just pile all of your junk in one room and instead, opt for renting a storage unit to house your non-essential items while showing your home to buyers. This means removing everything but the bare essentials… the less the better! Mobile storage units can be rented for long periods at competitive rates and dropped off right in your yard.
Now that the clutter is gone, deep clean every single surface of your home, top to bottom. If cleaning isn't your favorite pastime, (we can sympathize) then consider hiring a professional cleaning company that specializes in preparing homes for showings. These companies know how important it is to clean every single nook and cranny because potential buyers are going to be looking everywhere for a reason to offer you less than the asking price. Don't forget to make sure everything smells great too as bad scents are a huge turnoff for buyers.
Curb Appeal
Now that you've got your home's interior in order, don't forget what potential buyers see first! Your home's curb appeal is one of the most important features when buyers are developing their first impressions of your property and deciding what they perceive it to be worth. No matter how immaculate the inside of your home is, if the exterior isn't up to par, you'll be barraged with buyers wanting a discount.
At a minimum, be sure that the exterior paint is in good shape, gutters are functional, concrete and/or asphalt surfaces are in good repair, and the lawn isn't dead. You get extra points for having nice landscaping or presentable outdoor living spaces!
Color
There's no doubt about it – cool, neutral color schemes bring in more cash during a home sale. This is because buyers want to envision their own tastes and styles in your home, and that's much easier to do when they're looking at a neutral background. If your home is all crazy wallpaper or deep jewel tones, consider a fresh coat of paint for a guaranteed price booster.
Be Prepared for Maximum Profits
Now that you've learned more about the four C's of prepping your home for potential buyers, it's time to get down to business! Once you've done the prep work, listed your home for sale, and accepted on offer, call Benefit Title Services in Tampa to make the transaction seamless from contract to closing. Our real estate experts will hold deposits, order inspections, secure documents, and more to make sure everyone walks away from the table happy. Call (855) 832-9519 or contact us online to find out how we can help make selling your home easier and more profitable today!
https://www.benefittitle.com/wp-content/uploads/2014/03/logo.png
0
0
bestedge
https://www.benefittitle.com/wp-content/uploads/2014/03/logo.png
bestedge
2022-02-10 05:19:49
2022-02-24 05:29:01
How to Prepare Your Home for Buyers