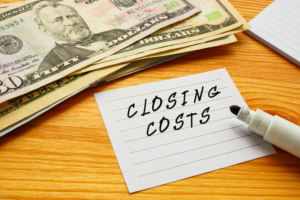 There are many pieces that must fall into place when purchasing a new home. If you choose to use a realtor as a buyer's representative, the realtor will handle all the various moving parts of the deal behind the scenes with minimal effort on your part. They will interact with appraisers, inspectors, insurance companies, title companies, and more on your behalf.
Closing costs are the blanket term for all the fees for all these various services. 
To make closing costs easier to understand for buyers, Florida requires that mortgage applicants be given a Loan Estimate (also known as a Good Faith Estimate) listing the expected closing costs within a few days of submitting their application.
The most common closing costs for real estate transactions include:
Application fee

Attorney fee

Closing fee

Courier fee

Credit report fee

Escrow deposit

Flood determination and monitoring fees

Homeowner's insurance prepayment

Title insurance (lender and owner)

Inspections (lead paint, pests, plumbing, electrical, etc.)

Discount points

Origination fee

Prepaid daily interest charges

Private mortgage insurance (PMI)

Appraisal fee

Property tax

Real estate commissions

Rate lock fees

Recording fee

Survey fee

Tax monitoring fees

Tax status search fee

Title search fee

Transfer tax

Underwriting fees

Homeowner Association (HOA) fees
This is not an exhaustive list. Many other fees and charges could be required for your real estate purchase to be successful. If you have questions about real estate closing costs, consult with an attorney that specializes in real estate law.
How much are closing costs?
Closing costs average 3-6% of the property's purchase price and are typically due at closing in the form of a cashier's check.
The exact amount of closing costs will vary widely from a deal to deal.
Benefit Title Services helps you save on closing costs in Florida
Our real estate experts can streamline the closing process on your new home purchase. We've helped individuals, property developers, realtors, finance companies, and more breeze through closing with all the proper research and documentation in place. Call us at (813) 251-1420 or contact us online to get started today.
https://www.benefittitle.com/wp-content/uploads/2014/03/logo.png
0
0
bestedge
https://www.benefittitle.com/wp-content/uploads/2014/03/logo.png
bestedge
2022-04-21 19:55:06
2022-04-21 19:55:06
Common Closing Costs for Buyers