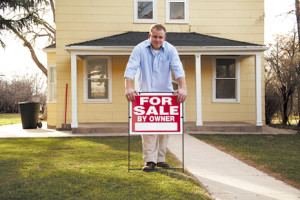 Many people are now choosing to sell their home as for sale by owner rather than going through a real estate broker. There are several advantages and disadvantages to selling your home in this way. Overall, it really just depends on how much effort and cost you are willing to put forward to get your home out there on the market.
Advantages
There are several advantages to listing your home as for sale by owner. First, real estate brokers may not be working in your best interests. Economists have found that most real estate agents are more concerned with getting a fast commission than a large commission. These agents don't get a huge boost in commission for every thousand dollars of the offer. It is more important to them to flip a house quickly than to sell it for the best possible price. As a free agent, you only have your own interests in mind. This can often result in getting a better offer for your home.
Disadvantages
The biggest disadvantage to listing your home as for sale by owner is marketing to find potential buyers. Up until recently, for sale by owner listings could not be included on the MLS, the database that real estate brokers use to market homes and find buyers. In recent years this has changed, and you can get listed on the MLS through certain companies. This listing will cost you a flat fee, and often a small percentage of the sale price as a commission as well.
Marketing your home can be difficult in other ways as well. You don't have the same connections as a real estate broker. Yet there are some websites that make it easier to sell your home for sale by owner. You can list your home on Zillow, Tulia, and other websites that allow these listings. These listings also come at a fee, however. Getting the information about your home listing out there in the market can become costly. It can also take longer to find a buyer.
If you are looking at selling your home for sale by owner, we have many services that can help you prepare for and work through your sale. Contact us today for more information.
https://www.benefittitle.com/wp-content/uploads/2014/03/logo.png
0
0
Benefit Title Services
https://www.benefittitle.com/wp-content/uploads/2014/03/logo.png
Benefit Title Services
2019-03-10 09:51:04
2019-03-26 09:53:18
Advantages and Disadvantages of For Sale By Owner