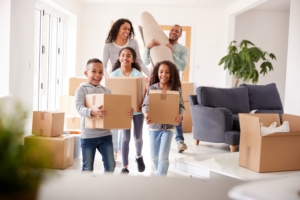 Buying a home for the first time can be scary, but it doesn't have to be! Here at Benefit Title, we've helped countless first-time home buyers land their Florida dream homes and we can help you too. Review our first-time home buyer checklist below to get a basic idea of the home buying process, then contact Benefit Title Services at (800) 237-9190 to start the title search process on the property you intend to purchase.
1. Calculate your debt-to-income ratio
The debt-to-income ratio (DTI) is a measure of how affordable your monthly mortgage payments are. Lenders usually want a DTI of less than 36%, of which no more than 28% is from the mortgage itself. There are several online DTI ratio calculators available to help you determine your DTI ratio. If yours is too high, work on improving it by decreasing your debts or increasing your income.
2. Save for a down payment
Your mortgage will cover the bulk of the purchase price, and you'll be required to reimburse it (with interest) over time, but you'll have to put down a deposit in cash. Plan for a down payment of around 10% of the property purchase price. The greater your down payment, the less interest you'll pay in the long run.
3. Hire representation
Realtors can choose to work exclusively as buyers' or seller's realtors, depending on who they choose to advocate for during the sale. In rare cases, a realtor can represent both the buyer and seller. You want someone experienced, knowledgeable, and trustworthy with whom you can build a solid rapport.
4. Get lender pre-approval
The sort of loan you obtain is determined by financial criteria such as the purchase price of the property, your credit score and history, and other factors. Sellers want to ensure that you can actually pay back the money, so they require documentation from you showing your ability to do so. Before you begin looking for houses in earnest, acquire any financial documents necessary, such as pay stubs, a credit report, and work history to obtain pre-approval from mortgage lenders. Preparing a tentative monthly budget that includes the estimated mortgage payment, insurance, and taxes is also a good idea.
5. Find your dream home
Examine the current and previous listings in the area where you'd like to live, like right here in sunny Tampa. Prioritize characteristics that are important to you or let your realtor help you narrow down a long list of properties.
6. Make a strategic offer and negotiate
Lean on your realtor for the initial offer amount and conditions, taking into account the present housing market, how long the property has been on the market, and any outstanding offers from other purchasers that you could be battling against. If a seller makes a counteroffer, follow your realtor's guidance and instincts. They'll know when to negotiate or withdraw your bid.
7. Get an appraisal
A professional assessor will be hired by your or your mortgage lender to calculate the property value, ensuring that you aren't overpaying for the property.
8. Schedule a home inspection
The inspector will assess the property and produce a report that includes information regarding the condition and flaws. Make use of the findings to negotiate renovations, reduce the purchase price, or make concessions during closing based on what you've learned.
9. Start looking for a contractor
If there are things you would like repaired or renovated that the seller will not be responsible for, you'll need to find a contractor who can do the task. Make a list of all the things you'd want to be done once the home is yours and inquire about reputable contractors from your realtor or other local homeowners.
10. Save some cash for closing
Your finances must be liquid at closing to cover various expenses such as property taxes, loan origination fees, appraisal fees, and attorney's fees.
11. Do a final walkthrough
Check out absolutely everything during this final walkthrough. If you find any issues, notify your realtor or the seller (if you don't have a realtor) ASAP.
12. Buy insurance
Contact your insurance agency to add a tentative homeowner's policy for the property. If you don't have an insurance agency you already do business with, ask your realtor for suggestions.
13. Close on the property
Closing costs can include things like taxes, title insurance, appraisal, lender fees, and other services performed throughout the closing process. You'll need to produce ID, proof of property insurance, funds, or cashier's checks to cover closing costs and other paperwork that your realtor will give you on closing day. The home will be transferred to you once you've signed the deed and documents. You'll shake hands and get your new property's keys.
Save Money on Your Property Purchase
As you can see, the home buying process can be extensive and confusing. Add in any special scenarios and you're making it even more convoluted! We can help. At Benefit Title Services, we help protect home buyers by conducting a thorough title search on the property title and insuring clean results with title insurance. We can even help with the transaction closing process! Call us at (800) 237-9190 or contact us online to find out more about our cost-cutting services.
https://www.benefittitle.com/wp-content/uploads/2014/03/logo.png
0
0
bestedge
https://www.benefittitle.com/wp-content/uploads/2014/03/logo.png
bestedge
2022-06-25 05:49:15
2022-06-25 05:49:15
Checklist for First-Time Home Buyers